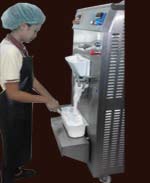 wholesale-icecream.com
in Chiang Mai. We produce several kind of ice cream:
Ice cream
Italian gelato style ice cream
Japanese ice cream
Thai ice cream
Sherbet
Low fat ice cream
Our production is artisanal: we use batch freezer for many products. Only some ice cream flavors are produced with an innovative continuos machine.
Ice Age Ice Cream production: genuine, natural, low fat and low sugar
Our Italian style gelato are manufactured products with real fruit and other premium ingredients. We select fruits in the relative season and we keep in low temperature storage (-30) so we can create a fruit base product at any time of the year without recur in the use of artificial flavor enchanting. Also during various seasons, when abounding in some kind of fruit, we prepare ice cream paste (blend of peeled fruits and sugars processed in hot environment) and store. About pistachio and hazelnut and other products that are not easy to find on the local market we import liquid essence that contain only 100% of the above nuts or ingredients. No preservative or other stretching substances. Are manufactured in Italy in special machinery that uses hot and vacuum technology. The vanilla is from Madagascar imported from a French specialized company. The cocoa powders are selected and mixed following the directories of Dutch and Belgian importers.
Low fat ice cream
Fruit, water and sugar are the main ingredients of a low fat sherbet ice cream. If you just mix fruit, sugar and water you will get a nice block of ice so we do use stabilizer of course. Stabilizers are imported from Italy. Only from Italy as we want to be sure are natural originated. These stabilizers are a blend of carrageen, guar gum, carob flour and other vegetable ingredients.
Milk ice cream gelato
About the milk ice cream we use fresh milk and fresh whipping cream. This is not a typical low fat product but to contain the calories we do not use butter and condense milk. And, very important, we use fewer sugars than we should. Using batch freezer ice cream machinery (again imported from Italy) is the clue. Top quality batch freezer helps to obtain a good gelato even if the mix is a little poor in sugars. If we would use continuous machinery we could not get the ice cream with this low level in sugars as sugar is an antifreeze agent. Moreover the use of fresh milk and whipped cream let the lactose inside this fresh natural products works very well with the normal added sugar so we can really stay low in sugars.
Ice cream production diagrams and images
We want to be a good source for your ice cream business. feel free to ask any more question. Use the below form:
How to recognize a good ice cream
First of all we have to define what is a good ice cream or Italian gelato. Eating eat ice cream is an action that gives you some pleasure. If we want to cut it short: is sweet, is cold, is refreshing. This kind of thinking about ice cream determinates the big success of cheap ice cream on the market. Nothing else that a cold sweet refreshing snack. But ice cream in the way we think is something else. Is a creamy sweet dessert with taste of milk and fragrances and aroma that develop once the ice cream melts in your mouth. If it is a sherbet (ice cream without milk) is the pleasure of eating a cold sweet and creamy fruit dessert. So it has to contain fruit of course! Once you try a gelato or Italian ice cream from us (but we are not the only producer of ice cream/gelato out there) you will feel all the flavors mixed with the texture of the ice cream and the pleasure will stay longer while melting in the mouth. Of course this kind of ice cream is more expensive but is something special to try. Then you will never go back to the cheap one. A real gelato connoisseur will eat only ice cream without topping, without candies and other "added value" items. In some case the topping decoration, beside making a nice visual effect, with syrup, chocolate chips or whatever, will have the purpose of cover a bit the taste of the ice cream… maybe because is not so nice… Anyway eating ice cream is a moment of pleasure, so if you like it with tons of topping just enjoy it! If you want to let us know your comment please follow us on
Google Plus ice cream
Ice cream
Category:
Business & Industrial > food > ice cream wholesale Chiang MaiOr Business & Industrial > refreshing > ice cream production Chiang Mai
---
Making gelato with Italian batch freezer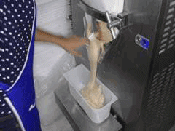 ...then deep frozen.
Our ice cream ideas: Italian recipes, gelato style, Thai traditions. Ice cream in Chiang Mai.